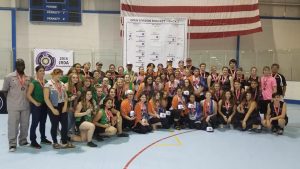 Today we concluded our participation at the 2018 Junior Roller Derby Association (JRDA) Champs. We successfully took third place!  We went into the JRDA Championship tournament ranked #6 in the world.  We are pleased with our performance and turn our eyes to next season and hope for a return to the international stage.
We want to thank our coaches, volunteers, parents, and families for all of your support and help to get us where we are at today.
There is something to be said about the sportsmanship portrayed by our Misfit skaters.  We love the opportunities that being a co-ed junior roller derby league brings to all individuals who want to play this great sport.  We want all skaters to know that they have a place where they belong.
If you would like to donate to our league to help support travel cost, tournament fees, and league operation, please go to paypal.me/mobcitymisfits to contribute to our future today!