When can I start?!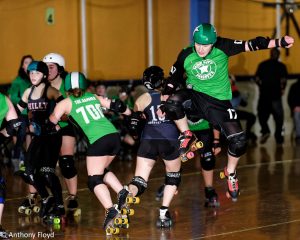 At this time, Mob City is not practicing due to the COVID-19 Pandemic. We continue to assess the current conditions using the Junior Roller Derby Association recommendations, WIAA and NCAA sports commissions as guides in returning to play.
If you have any questions, please email info@mobcitymisfits.com.
Mob City takes a whole skater approach.  We do not have tryouts for our skaters and are constantly assessing.  We sort our skaters based on skill level and not age.  This means that sometimes there are older skaters who are working their way up and younger skaters who may be playing the highest level of derby.  We are careful to place skaters in appropriate skill level and work diligently to foster their growth. With excellent coaching staff for each level, skaters can expect to receive a positive learning experience.
---
League member requirements and dues
Skaters must have a primary health insurance
Skaters must have a liability waiver signed by their parent/guardian before participating in any Mob City practice.
Skaters pay a registration fee of $40 at initial sign-up yearly.  Uniforms will be available to order at time of registration.
Practice Times and Location:
Goons: Practices times coming soon! Starting in October 2021.
Punks: Practices times coming soon! Starting in October 2021.
Misfits: Practices times coming soon! Starting in October 2021.
Location: We practice at the Everett Skate Deck: 9700 19th Ave SE, Everett, Washington 98208
Want to drop in?  Drop in fees are $10/practice.
Monthly Dues:
Goons dues are $40/monthly
Punks and Misfits dues are $60/monthly.
Need a scholarship? We can help.  Email info@mobcitymisfits.com for more information.
---
What do I need to start?
Whether you join for fun, to become an all-star, or to just try it out and learn something new, there are a few items you will need before hitting the floor at practice. You can always borrow out gear your first few times! Just make sure to bring a water bottle, comfortable athletic clothing, and your own mouth guard.
Gear Requirements:
Helmet
There are variety of helmets out there.  Some skaters prefer full face coverage (like a hockey helmet with a visor).   Some skaters use bicycle helmets. Prices for new helmets range based on quality and style.  Skaters who are more skilled and are participating in contact games and scrimmages should have high quality helmets.
Mouthguard
Many derby players prefer the thinner style of mouthguard because it makes it easier to talk on the track.  The ability to communicate effectively with teammates becomes critical.
There are companies (like Sisu) that have moldable mouthguards that are custom fit to the skaters teeth.   If you wear braces, you should consult your orthodontist regarding the proper mouthguard to get, and for assistance with fitting it.
Wrist guards
Wrist guards are available in a few different styles.  The key thing to keep in mind is that the hard part of the wrist guard should be on the inside of your wrist.   
Elbow Pads
Elbow pads are sold in a couple of different styles. When buying your elbow pads you should check and see if they specify which arm each pad needs to go on.  (This is usually indicated by tags that eventually fall off or may become unreadable)
Knee Pads
One of the interesting things about knee pads is that the thicker the pad is, the better the protection, but the more it may interfere with your skating motion.  Some skaters prefer the security of having a thick and protective pad, while others prefer a pad with a smaller profile. Knee pads should have a hard outer shell (there are "soft" knee pads that you can purchase, but they really are not appropriate for roller derby).
Water Bottle
Practices can be long (most practices are scheduled for about 2 hours), and particularly during the summer they can get hot.   You need to stay hydrated and should have a water bottle with you for all practices and games. We strongly recommend that water bottles be clearly marked so that it's easy to tell which water bottle is yours.